3 Paths to a Fresh Office Design: Surfaces, Lighting, Flooring
Posted in Useful Tips.
There is an old adage that you need to wear the suit for the job you want, not the job you have.  Another that reminds us that you never have a second chance to make a first impression. The wisdom that a picture is worth a thousand words, that you catch more flies with honey and of course, fake it 'til you make it. Plus a possible current favorite, "Style: Because your personality isn't the first thing people see."
All of these point to the hard to dispute fact that people are creatures that use all five senses to interpret and order the world around them. They also highlight the fact that visual impressions shape how we understand and think about the people, the spaces, and by extension the businesses we interact with. While many would like to think that rational reflection and decision making provides customers with the path to your door and services, this is very seldom the case.
The Emotional Nature of Spaces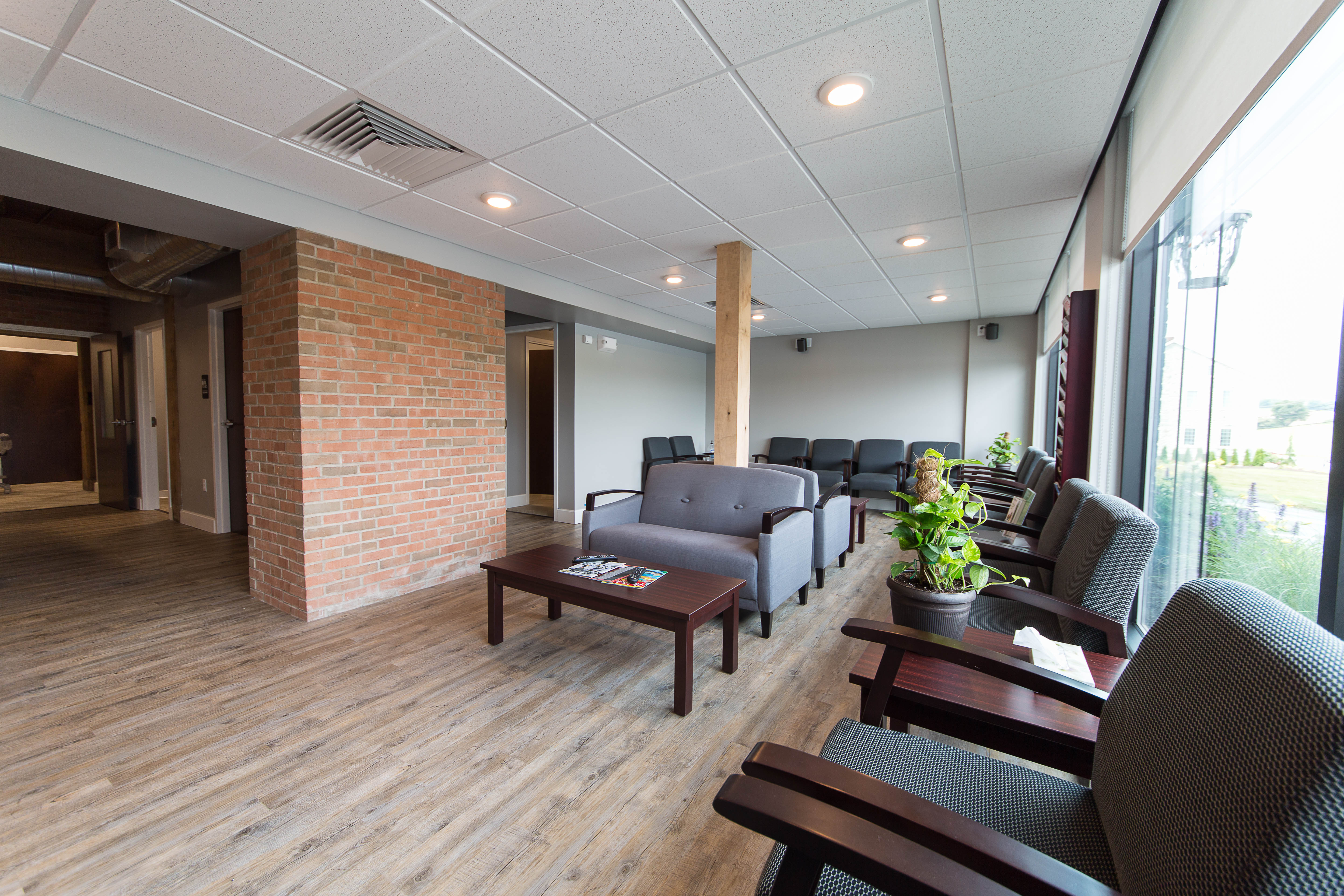 When you enter a space, you are immediately hit with an overall sense-impression that evokes an emotional response. Do you feel comfortable? Are you tense? Happy? Does the combination of dim lighting and closely spaced chairs create a sense of relaxed intimacy? Or has it crossed a line and now feels more like mandatory quiet time at the daycare center? For businesses, engineering the space where customer interactions occur requires that you consider how you would like your customers to feel as well as the business you need to get done.
For established businesses, maintenance and changes to your facilities signal to your existing clients that you are investing in their comfort and that you have confidence in the longevity of your business. Any change helps to draw attention to your business, but by making the right updates and upgrades, you can help to improve the emotional tone of your space and solidify your brand.
The good news is that altering these emotional responses doesn't always require a complete overhaul of your office design. Because there are many small cues that combine to create the overall impression, tweaking just a few can help to nudge customers over a line and transform their experience from one of tension to relaxation, or boredom to excitement.
We recommend the following office design changes for big impact on your customers with a minimum of disruption to your business.
Add Sizzle with Upgraded Millwork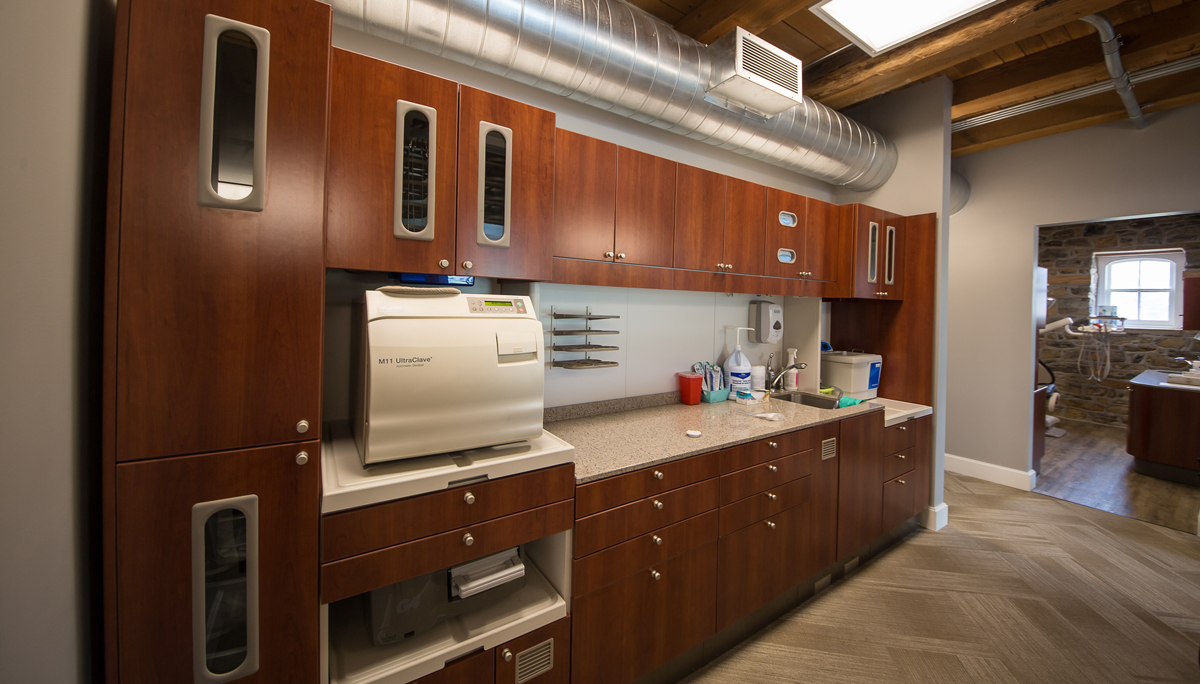 Cabinetry, countertops and work surfaces show their age in many ways. Sometimes years of use have simply taken a toll on a timeless choice, with peeling or chipped edges or scuffs and wear marks from repeated motions and countless customer interactions. In other situations, the cost-effective and on-trend choice made a decade ago just no longer fits with modern design aesthetics.
Replacing existing millwork, both cabinetry and counters, in the reception area, conference rooms and other client zones provides a significant and unmissable visual impact. The use of natural or engineered stone products contributes a reflective surface to the overall space and draws the eye of visitors, providing a refined and high-end feel to your space.
Employing custom millwork is a relatively clean and self-contained process, which means it can be effectively completed within days or tackled in phases so that business can keep moving while the work is being done.
Pro-Tip: Don't overlook the vertical surfaces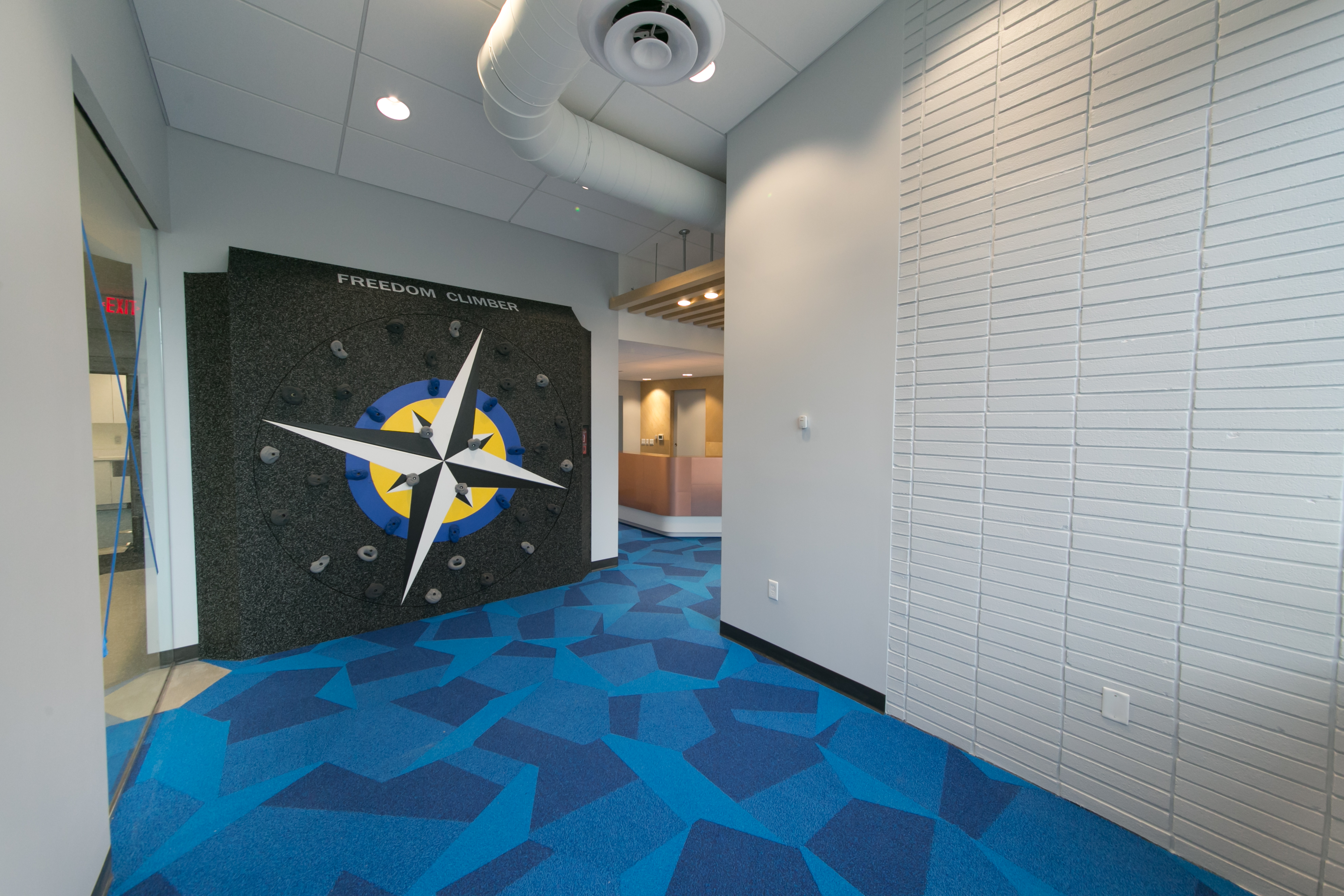 Fresh paint or wallpaper treatments can also significantly change the feel of a room by either lightening it or providing warmth, depending on your intended goal. Feature walls are another way to freshen up a space and truly stand out. Whether it tells the story of your business or provides a way for clients to entertain themselves, like this unique climbing wall feature, these touches can stand out your clients' memories and keep your business in their thoughts. In either instance, the cost can be well worth it, though it may be necessary to alter your business hours for a few days to accommodate the painting or installation crew.
Lighting for Impact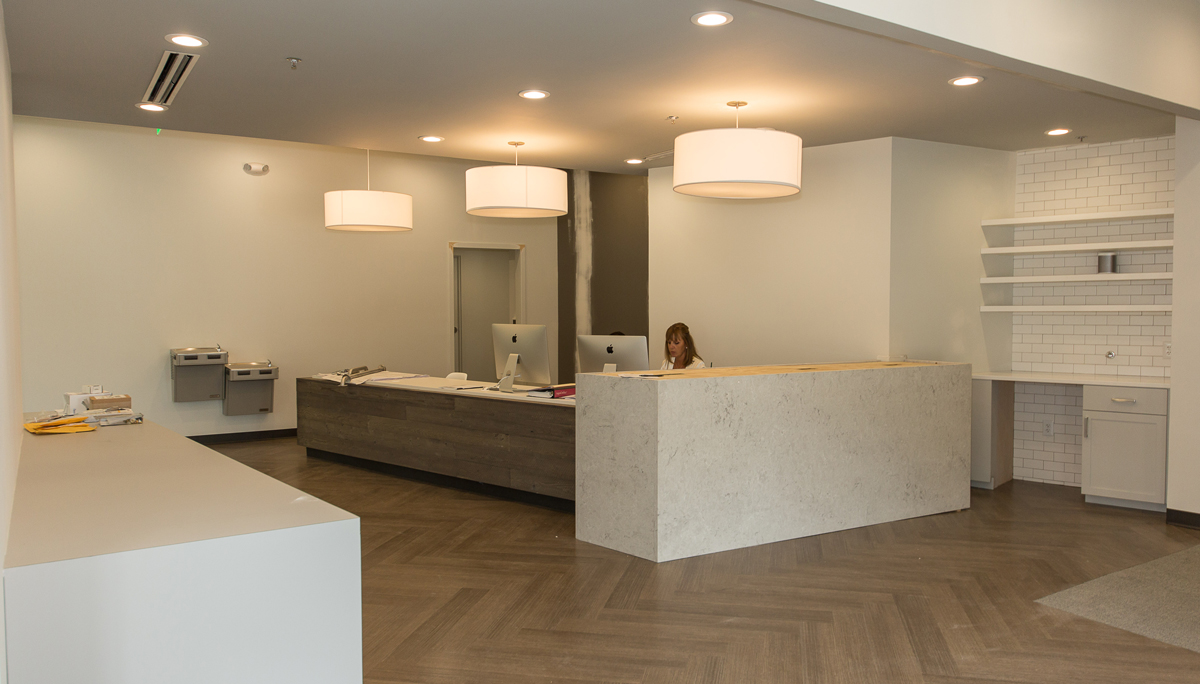 Lighting is unparalleled in its ability to set the mood in a space. For many businesses, the default fluorescents provide illumination, but certainly don't do anything to create a mood or make a space human. Newer lighting options employ parabolic lenses, casting a more diffuse and natural light. With less glare and fewer lighting "hot spots," these fixtures help to make a comfortable space and reduce the environmental stressors employees and clients are exposed to.
While a complete overhaul of all your lights may be a bigger project then you have in mind, selecting spaces to install feature lighting is an easily managed upgrade that will help to present an organization with personality.  Whether it is the selection of pendants for over the reception desk or a great funky chandelier for the lobby space, selective and deliberate lighting choices can create focal points for clients to engage with.
As important, newer fixtures provide the opportunity to improve energy efficiency and thereby reduce overall costs. The cost of lighting fixtures can become extravagant, but there are many outstanding choices that won't push this upgrade out of reach. Particularly since a change to just one or two key areas can help you to craft spaces that are more comfortable and memorable for your clients.
Updated Flooring Improves Acoustics and Comfort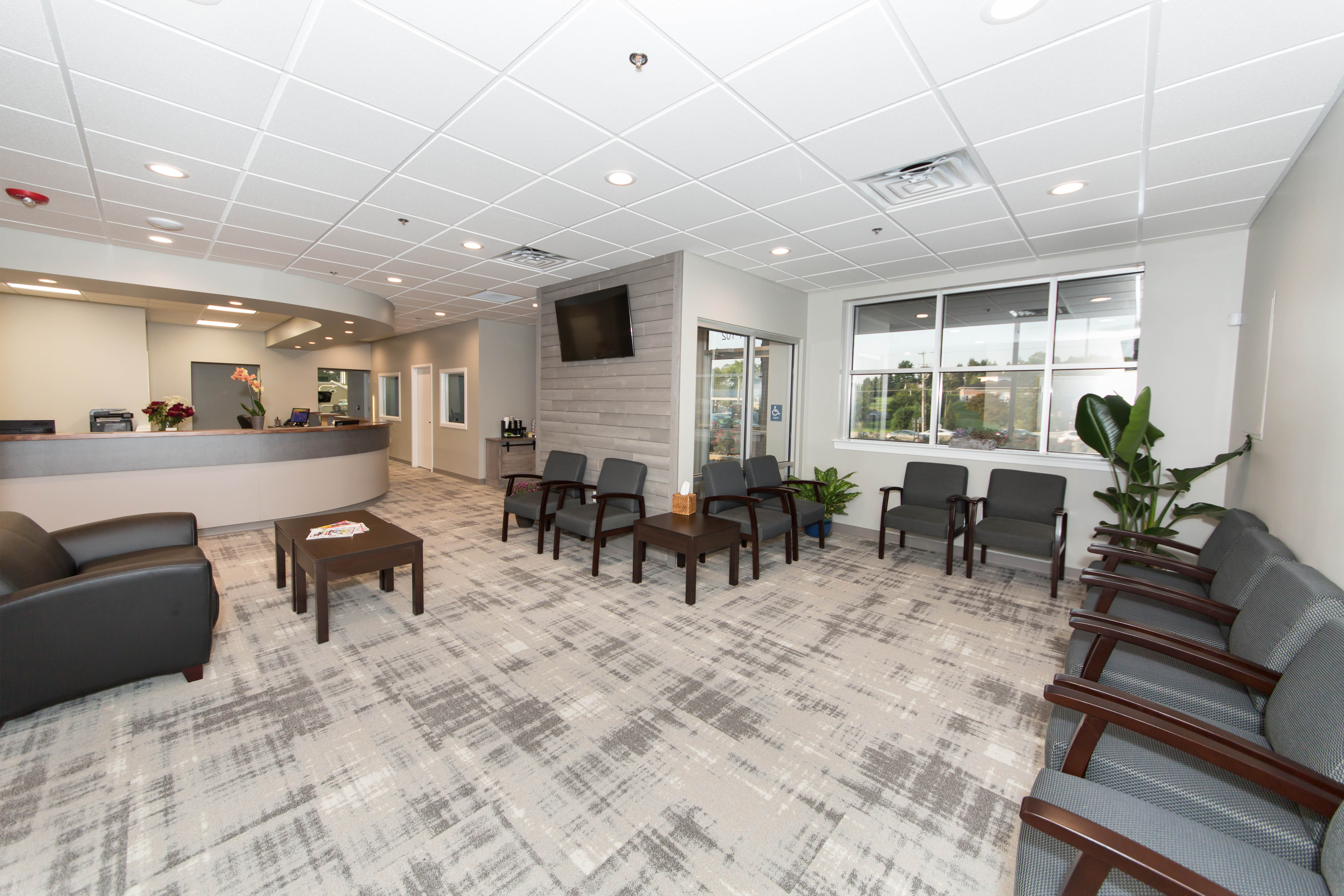 Your flooring is one of the largest visual areas within your business and also one of the hardest used elements. For established businesses, new flooring can not only improve the overall look, but depending on the material chosen, it can also bring with it the benefits of greater comfort for employees or improved sound management.
Today's luxury vinyl plank flooring is able to successfully replicate the look of much more expensive wood or tile. But it's more durable, can be easier on legs, knees and ankles for those who stand or walk for a large part of the day – and is much easier to clean. This combination of characteristics makes it a superior choice for dental and medical practices as well as restaurants, delivering the look you want with the maintenance and sanitary characteristics you need.
Modular carpet tile provides another excellent choice for businesses interested in upgrading their flooring and adding a bit of flair. Modular squares are an incredibly practical choice for maintenance reasons. For example, in case of a spill, it's much easier to tear up and replace one or two squares of carpet rather than the entire floor. Beyond the potential convenience in an office where liquid hazards are common, carpet squares also help with noise reduction and when well-designed can provide unique and striking design flair. The designs and materials available today can be presented to create a variety of looks from classic to cutting-edge trendy depending on the look and feel you are going for.
#SpacesMatter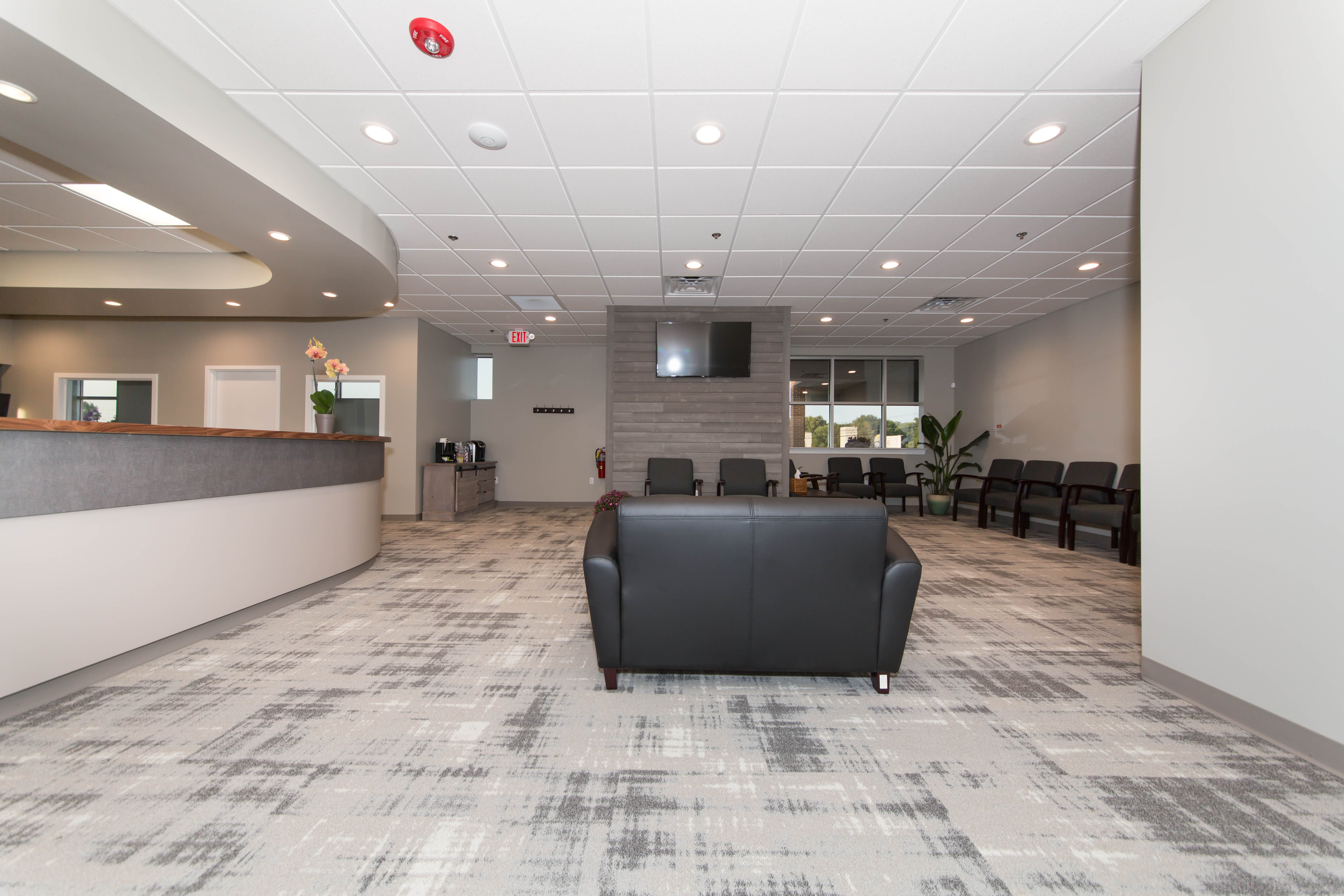 When thinking about what you can do to make your business stand out for your customers, elicit the positive emotional response that makes them brand advocates, and keep them coming back, don't underestimate the impact of the very space in which you are conducting business. There is no need for a complete overhaul, consider making smart Investments in millwork, lighting and flooring to shape the mood of the space.
If you aren't sure where to begin, or which choices will help move the emotional needle in the direction you want,  Contact Us (link to contact form) and we will be happy to help you get started.