3 Tips for Designing Your Veterinary Practice
Posted in Veterinary.
Designing a practice space for your veterinary clinic means thinking through the needs of both your patients and their owners and crafting an environment that will work for them and for your staff. If you are considering opening a new veterinary clinic or updating your current practice, we have a few tips to keep in mind as you start your planning process.
Your First Impression Matters
You begin convincing potential clients that your practice is right for them before they even walk through your front door. If you are building a new clinic, consider the location carefully and pay attention to visibility from major roadways that can help you build awareness of your practice within the community. Don't overlook the possibility of adapting existing spaces such as former retail stores that may have great visibility and convenient parking arrangements. Other stand-alone buildings, such as banks or barns might be just the space you are looking for. Consider starting work early with experienced professionals who have helped other clients in the past to repurpose and convert spaces. They can assist you in finding the right location and making it create the first impression you are after.
If you are upgrading an existing practice, exterior improvements can make a big difference for a very reasonable investment. Changing your exterior, adding a façade or improving landscaping are all cost-effective approaches to make your practice new and different and increase its visibility to passersby.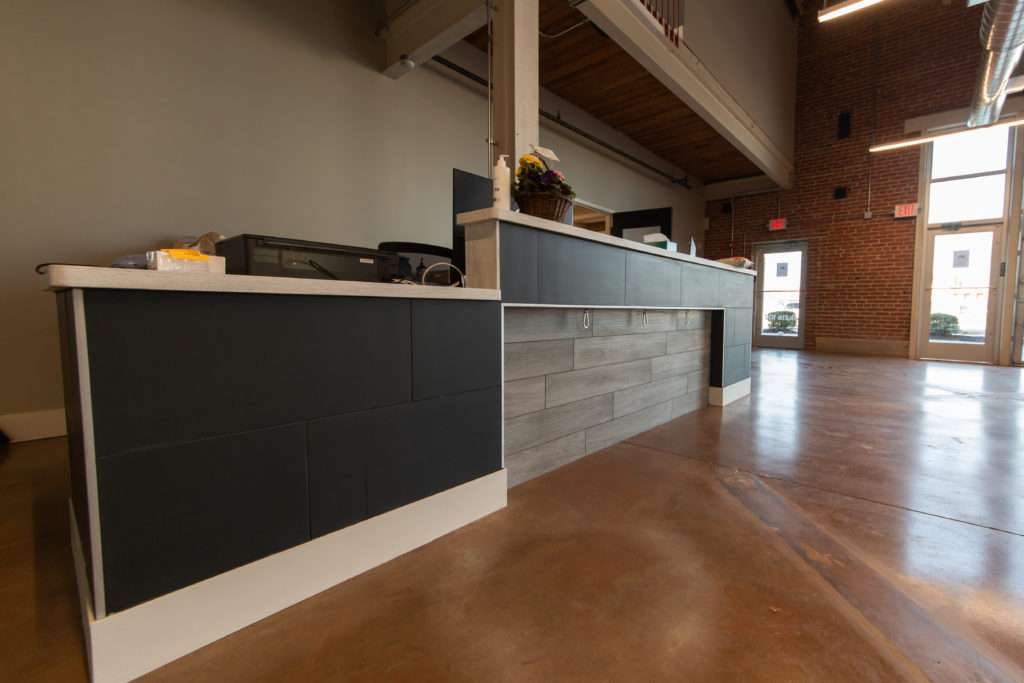 Once through the front door, the reception area needs to convey the right mix of cleanliness, professionalism, and warmth to keep clients engaged and to help make them and their pets comfortable. Natural light and natural materials can help to make the area bright and warm. Be sure to allow ample room for pets and owners to be able to maneuver around the reception desk and into seating. If you are not going to be able to very quickly move clients into exam rooms, it is also important to have a large enough waiting area that pets can be kept apart from one another. Installing the right air handling system is also important to be able to keep the air smelling clean, and to have rapid air exchange should an accident make it necessary.
Managing Patient Flow is Managing Patient Anxiety
Another area to consider is planning the flow of patients through your practice. Having a well -defined flow of traffic can help to keep patients calm and improve the experience for owners. For some clinics, this starts with having separate entrances and waiting area for dogs and cats. If your space accommodates this design choice, it can help keep dogs calm and minimize the stress on cats.
Be sure to consider things like the placement of scales or other frequently used equipment as you plan out the traffic flow in order to minimize bottlenecks within the office. The design and arrangement of labs and surgical and recovery spaces also needs to be walked through systematically to be certain that crucial details aren't overlooked.
When you take an animal from one space into the next, it is normal for him/her to be excited and to want to explore the new space. While normal, this excitement does not make it any easier to conduct an exam or procedure. Because every time an animal is introduced to a new area he/she must be resettled, many vets are increasingly trying to keep animals in a single space as much as possible in order to minimize the stress and excitement for them. This means that many procedures that might once have been done in the back, are now being done in the exam room.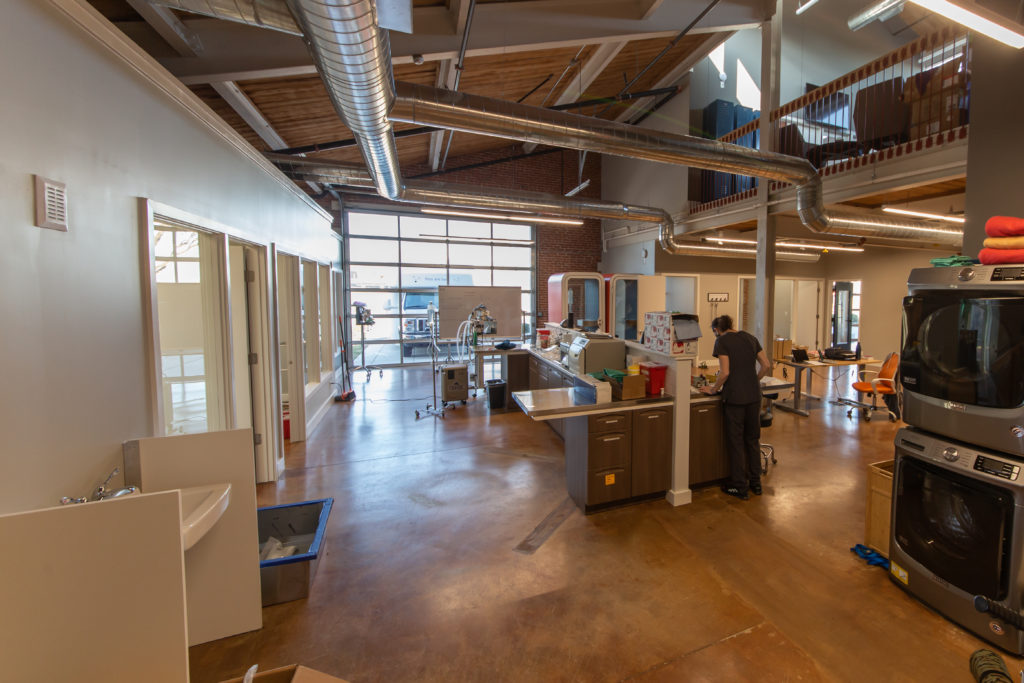 Exam Rooms Are For Owners and Pets
Exam rooms are likely the furthest into your practice that clients will go. While first impressions are significant, this is where the bulk of your time will be spent with owners and patients and it is important to design the space so that both are comfortable, and so that you can effectively practice medicine. This starts by deciding how you want exam rooms to be used.
Some practices have started tailoring their spaces, with different exam rooms being designed to accommodate different types or sizes of animals. This allows practices to include special exam tools or spaces. For example, having one exam room outfitted with a mechanical lift table to accommodate large dogs, and another with special perches for cats. Other practices are designing rooms to minimize animal stress levels and use furnishing that look more like standard furniture instead of traditional exam tables and run diffusers that release pheromones to help keep animals calm.
Even if you choose to have specialized exam rooms, there are some universals that you will want to have in place. Be sure to provide ample room to move around within the space. This is both practical for you and reduces the stress on the patient. You will want to use materials that help to dampen sound to minimize "chatter" between the rooms, and the positive air handling techniques and natural light from the reception area make an equal amount of sense in the exam rooms. And be sure to include seating for owners as well. Built-in bench seating is a great option as it helps to keep the floor area clear.
One final best practice for exam rooms is multiple entrances into the space. By having a front door that patients enter through, and a back door that feeds into surgery, lab and other procedure spaces, you can better manage the flow of traffic within the practice.
Whether you are building a new clinic or upgrading your current veterinary practice space, there are many design choices that can help you craft a space that will delight clients and keep patients calm and happy. Contact Real Services for more ideas and to discuss how we can help you with your veterinary clinic.