Wav Chiropractic – South Heidelberg Township, PA
Type: Chiropractic Care
Location – South Heidelberg Township, PA
Square Footage: 1,500 sq. ft
Project timeline: Nine weeks
Office Opened: Mid-2020
Website: https://www.wavchiro.com/
When she envisioned her practice, Dr. Felicia Devine knew it couldn't be a run-of-the-mill, cookie-cutter, "typical medical office." Instead, she worked with Real Services to create a space that allows patients to feel comfortable, welcomed and accepted from the moment they walk through the doors. Starting with the selection of the office location, and continuing on through the decisions on interior finishes, this project stayed committed to building a unique, healthy, and sustainable space.
Rather than place her office in a strip mall or new build, Dr. Felicia opted to build out a space alongside Green Valley Dental, renovating a space that was originally built in 1900, along with an addition that was added in 1961. Working in this kind of space comes with challenges, but also allows for the inclusion of vintage building elements like exposed beams which help to convey a sense of history and hand-craft that can be lacking in more modern construction.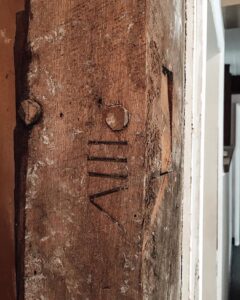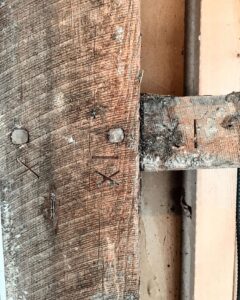 As a chiropractor and wellness practitioner, Dr. Felicia helps patients who suffer from dysfunctional movement patterns that cause pain and interfere with daily life activities and prevent them from getting the most out of their days. Her approach to wellness recognizes the whole person and seeks to create genuine connections with her patients where they are heard and recognized fully.
The focus on wellness extended into the selection of the office's floors, counters and paints. By choosing Zero VOC (Volatile Organic Compound) paints and flooring, Dr. Felicia put the health and well being of her patients, the contracting team, the community, and the environment as her top priority. Fortunately, with lots of great options in the market, there is no need to sacrifice on design quality or surface durability. The floors are certified as meeting stringent quality standards through FloorScore and the paints are GreenGuard Gold certified.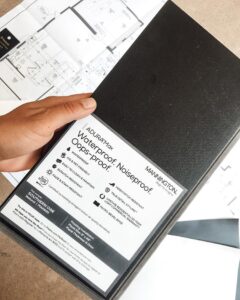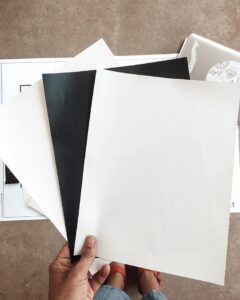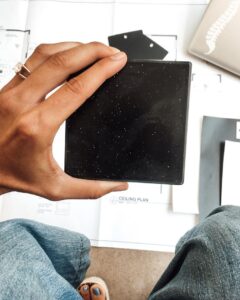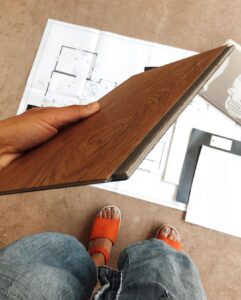 Designing for Whole People
From Dr. Felicia's perspective, people are, "designed to heal from within and I help release the tension, stagnant energy and restrictions within their physical and emotional bodies." Given this central tenant of her approach, it is not surprising that creating an environment that would support these outcomes was vital to making her office build a success.
Equally important, many of her patients arrive after long struggles to find relief from symptoms through traditional western medicine. Creating a distinct experience that stands apart from the cold and clinical appointments people are used to helps to open patients to the possibilities, fresh perspective and broader paradigm that functional chiropractic care can offer.
And of course, Dr. Felicia needed to build a space that would allow her complete personality, interests and perspective to shine as well. She recognized that how the space made her feel would influence the kind and quality of care that she could provide to her patients.
Lighting the Way
Creating a space that maximized the available natural light was a top priority for this native Arizonan who often jokes that she is "solar powered." Large windows allow the outside to flood in to not only the waiting area, but also the adjusting bay and children's waiting and play area. Clean white walls reflect and amplify the light, helping to make the space feel large and open.
Light plays a part in the services provided as well. Wav Chiropractic offers infrared sauna services in addition to traditional chiropractic. This wheelchair-accessible sauna uses light energy to heat the body directly, making it distinct from the wet saunas that you more commonly see at gyms and spas. The sauna also incorporates 96 medical grade LED lights, letting patients benefit from chromo (color) light therapy while they sweat out toxins and loosen their muscles, without being exposed to the harmful UV rays of the sun.
Honey-toned engineered laminate floors contrast the modern black and white color scheme and bring warmth without diminishing the edgy feel of the space. This flooring is also highly durable and ideal for easily maintaining a clean and healthy space. The flooring echoes and extends on the original 1901 wooden beams that have been left exposed within the practice space to recognize and honor the age and beauty of the original building.
Creating Focus
When patients first enter the space their eyes are drawn to feature wall opposite the doorway. The funky, modern, backlit script sign is juxtaposed over a wall that provides a sense of texture and brings an organic element to the space. In front of this, patients see a dramatic curved black and white reception desk with ample storage space for the items required to keep the practice organized.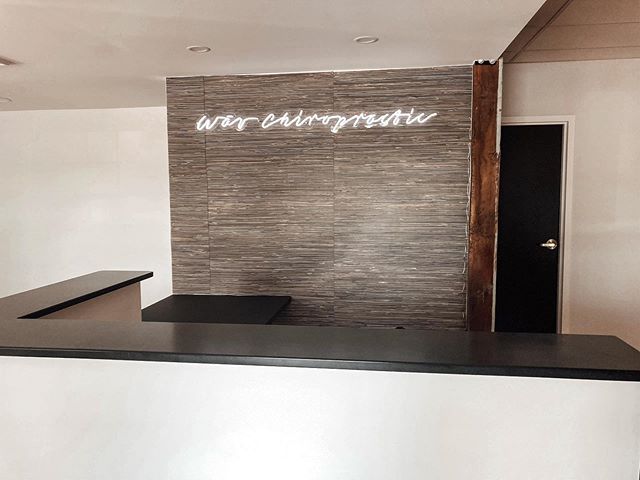 The blending of organic and modern continues in the waiting area with black furnishings interspersed with plants that help soften and brighten the space.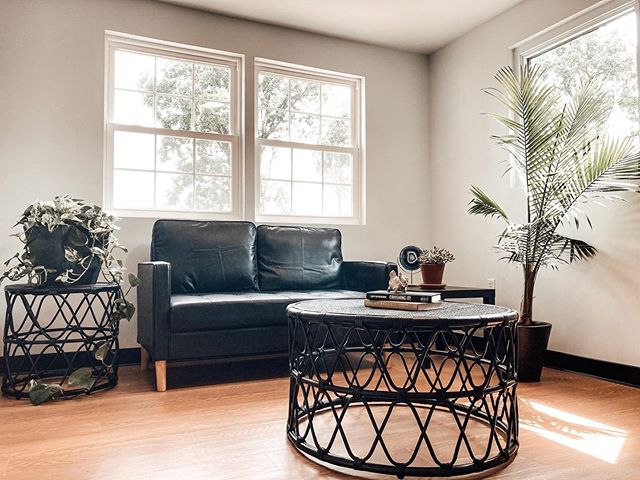 A Positive Project Experience and Positive Results
Patient response has been overwhelmingly positive.
"They love the space, the unique touches (original beams), how bright it is in here, the smell, the vibes overall. I have received an insane amount of compliments on this space already." says Devine.
Working with Real Services was the clear choice for this project. With their history of building unique and memorable medical and dental practices, Dr. Felicia could be confident that the final result would give her a medically sound space, while also retaining the human element that was needed. Beyond that, Real Services had previously done the work to create the Green Valley Dental offices within the same building, so they already knew some of the particulars of this historic building space. Working with a company experienced in dealing with the challenges that can arise in old buildings gave Dr. Felicia peace-of mind throughout the process.
As important as the positive end result, the path to getting there was good as well.
"Every employee of Real Service and those they contract in to do work are EXTREMELY easy to work with, kind, and willing to put in hard work." says Dr. Felicia. "Every step of the way I felt supported, heard, and respected."
When you are ready to build or update your practice space or business, be sure that the partner you work with understands your industry and is focused on giving you the custom results you are looking for. Contact us today to see how Real Services can help you.