Design Your Medical Office and Technology for Better Patient Experience
Posted in Medical Construction.
Medical and dental offices have changed a lot in the last ten years. Providers have incorporated a variety of technologies that now allow them to provide better patient care and increased patient comfort. Medical office design changes to incorporate new and improving technology tools to meet the needs of patients are bound to continue. As we move forward with new methods and practices to address and minimize the spread of COVID-19, it is important to consider how office spaces and technology can be employed to increase the safety and well-being of both patients and staff.
Open Space and Patient Experience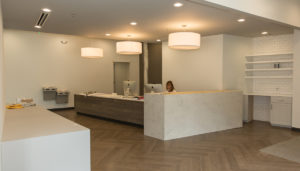 The industry has been seeing a shift to creating more spa-like environments for patients in areas fromreception, to waiting areas and exam rooms. Soft warm colors along with wide halls and open areas help create comfortable and inviting areas that help to minimize patient stress.
The space required to support medical technology tools has also changed significantly. With more and more medical applications residing in the cloud, areas that might once have been needed for computer and network hardware can be reclaimed for other purposes and IT infrastructure footprint can be minimized.
Technology both allows for and requires open space. Check-in tools like self-service kiosks can help to speed patient check-in and create zones that help to support social distancing. These devices can also aid in improving data accuracy and protecting patient privacy. Many practices have been trialing this technology, but now may be the time to expand its usage to allow for the separation of patients in common areas. Online check-in may also be an option for some practices, allowing patients to use smart phones for entering their information rather than handling communal devices.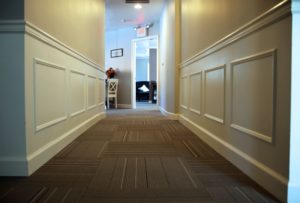 Wide hallways create a more relaxed and inviting atmosphere and allow for social distancing  between staff as well as patients. Possibly more interesting as technology evolves, wider halls and larger rooms may be beneficial for incorporating future remote diagnostic tools.
The Beam robot provides one such example. The Beam robot is being used by some physicians to see patients in practices, even if the physician can't be there. This remote-controlled robot allows a person to travel through the practice and move from one space to another, interacting with patients and staff using a monitor that supports video interaction. Wider halls and more open designs will make the maneuvering of remote-controlled devices like this simpler.
Create Telehealth Optimized Zones
Practices will still require a quality wired Local Area Network infrastructure, and the need for complete and robust wireless coverage will only continue to expand. Installing stationary devices using wired connections provides the most consistent performance. As such, it should be used for applications like telemedicine and videoconferencing where lag or intermittent performance can really reduce the satisfaction of the users.
The rise of electronic medical records has allowed for the reduction in paper medical records. For established practices, now may be the right time to reclaim and creatively repurpose that space to create an optimized telehealth environment. When planning and creating that space, keep the following things in mind:
Spaces should be private, with soundproofing whenever possible
Keep walls solid colors or a soothing pattern, keeping in mind that small patterns that work in person may be distracting or "dance" in the background on-screen which can be very distracting to patients
Review your lighting in areas where telehealth meetings will be conducted. Natural light is best when it can be managed
Be sure that the area you choose has sufficient space so that you can move around while still being seen on camera. This can help with remote diagnostics, should you need to demonstrate something that you wish your patient to do so that you can actually observe what occurs.
Care for Staff
Being a medical care provider has never been easy. But now medical staff members face an increasingly complex set of rules and procedures in order to maintain the safety of their patients and themselves. And it is these individuals that help to ensure that your patients feel cared for and valued. To help them provide the best possible care and patient experience, it is a wise investment to employ technology and create spaces designed to meet their needs.
Provide spaces that allow team members to recharge individually. The spa-like feel employed to make patients comfortable should be continued into staff areas as well. These spaces also need to have the technology amenities we have become accustomed to like charging stations and good wifi coverage.
Create spaces that accommodate team while also allowing for appropriate social distancing. Small conference rooms may no longer provide enough space to meet for the full team to meet comfortably. Reconfigurable furnishings can assist with making spaces that are flexible to meet a variety of needs.
Integrate technology like smart boards to allow for asynchronous or dispersed collaboration across locations.
Integrate Technology to Improve Patient Experience
While some may fear that increasing the presence and use of technology in medical practices could make the patient experience feel more distanced and less personal, this does not have to be the case. In reality, when technology is thoughtfully planned and skillfully employed, there are benefits for everyone.
Automation of routine items allows staff to better focus on patients and patient care. Integration of new tools can help staff members connect better and share information. Telemedicine can provide good care outcomes while supporting social distancing measures and reducing the amount of time patients spend traveling for care.
But putting the right plan together to support these goals requires the help of experts familiar with integrating technology into medical practices. We have extensive experience working with medical practitioners to plan and build new practices that support technology without losing sight of the needs of patients. Contact Us to talk about how we can help.