A Modern Industrial Dental Office: Hamilton Dental Designs [Case Study]
Posted in Case Study.
Your dental practice design can greatly affect the future success and profitability of your practice. This case study for dental office construction proves this fact. For this case study we're revisiting one of our favorite projects – Hamilton Dental Designs in Allentown, PA.
This office was a prime example of how design can incorporate state of the art technology while still focusing on patient comfort. This modern industrial design incorporated reclaimed lumber, patient amenities, and more. The new dental practice has recorded new patient growth and higher production numbers since opening in 2017.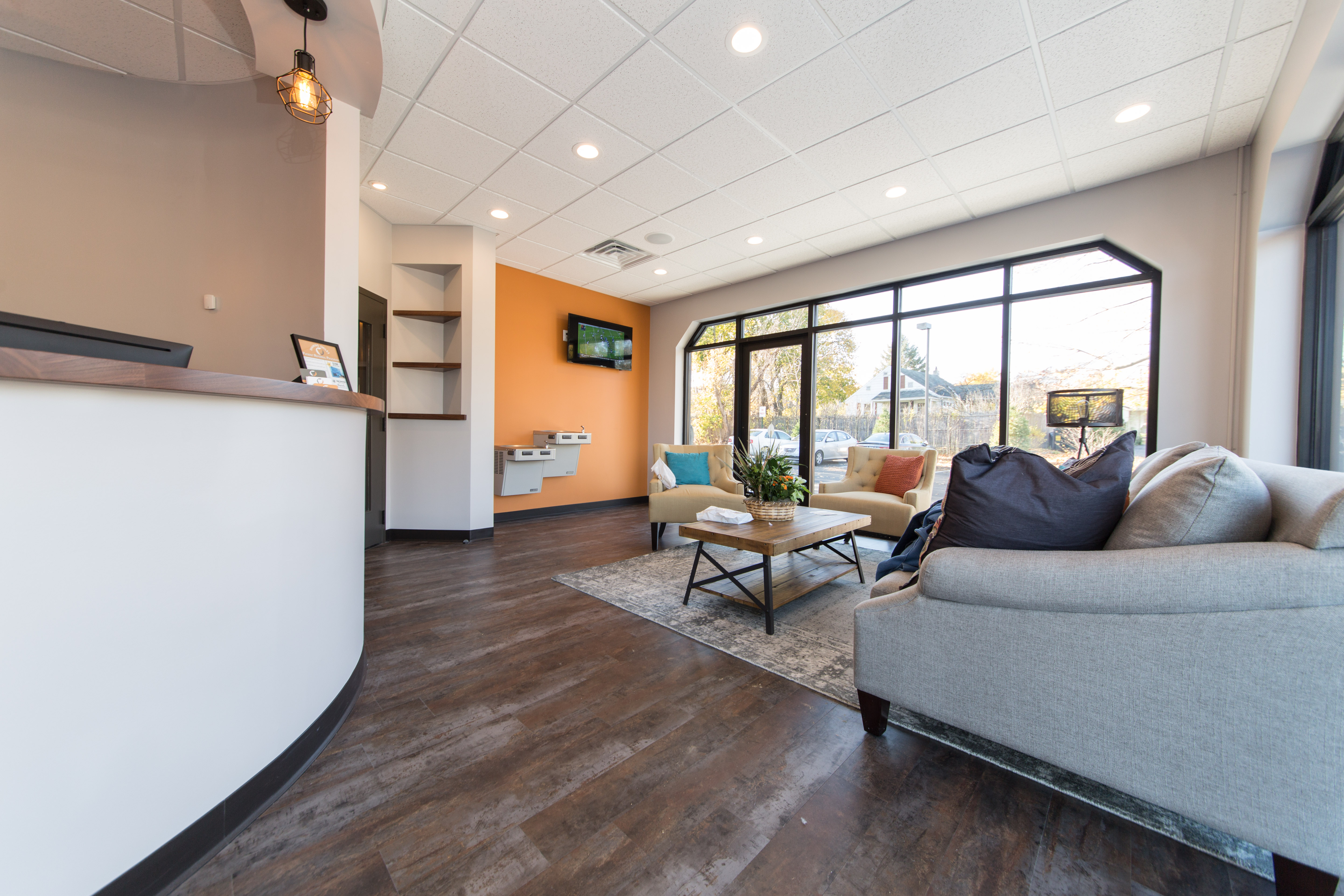 Project Background – Hamilton Dental Designs – Allentown, PA
Type: Dental Office
Location: Allentown, PA
Square Footage: 2,800 sq. ft.
Website: http://www.hamiltondentallv.com/
Main Project Challenge
Dr. Jose Gil wanted to start his dental business from scratch. While many dentists are opting to buy into or purchase existing practices, Dr. Gil chose to open his doors with zero patients on the books. The main challenge was to create a dental office that could generate traffic to the business and increase new patient acquisition.
Key Project Features
The office was designed to feel clean, comfortable, and spacious. This was achieved through high ceilings, wide hallways and a modern industrial design.
One key component that informed every design decision was patient experience. Many dental patients are reluctant to visit these medical practices. The design was meant to subvert their expectations and provide unparalleled comfort.
Some patient-centered elements include:
A free coffee, water, and tea station
Comfortable couches in reception area
Bright, natural lighting
Background music
Lightly massaging dental chairs
Ceiling-mounted televisions
Dr. Gil brought a clear design vision to the table. He wanted a modern industrial look. We incorporated reclaimed lumber, a neutral color palette, and modern finishes to match his vision.
I felt that Real Services was transparent about the costs for my project, no major details were left out of the estimate, and there was an assurance that changes in costs during construction would be clearly communicated.  Real Services instilled the most confidence.

-Dr. Jose Gil, Hamilton Dental Designs
Results
Hamilton Dental Designs has recorded steady growth since opening its doors in Allentown, PA. Over the past year, the average amount of new patients Dr. Gil sees each month has ballooned from the single digits to an average of 40 new patients each month. He has also noted an increase in production and collection numbers.
Selecting the right location and designing a patient-friendly office were vital for the success of Dr. Gil's practice. The office is thriving, but the building still provides the practice with room to grow in the years ahead.
Make Your Vision a Reality
Want to design your dream medical practice? Real Services can transform existing spaces or build an office from the ground up. Contact us today to talk with a medical construction expert!
READ OUR FREE GUIDE TO BUILDING A DENTAL PRACTICE.
We understand how overwhelming this entire process can be. That's why we created a guide that breaks down the major steps involved in a dental practice build-out. Read the guide now!