Improve Medical Office Patient Movement & Workflow with Smart Design Decisions
Posted in Medical Construction.
Positive patient experience and reviews have never been more important to medical practices than they are today. In addition to ensuring that patients receive top-quality care, physicians and medical practices must also look for ways to deliver patient experiences that result in positive reviews on standardized surveys. One area that can undermine an otherwise positive patient experience stems from in-office inefficiencies related to overall workflow.
The factors that influence patient experience start before they set foot in the actual office. Even the level of difficulty or convenience associated with scheduling an appointment can ultimately be seen in a final evaluation. In this article we will be focusing our attention on the physical environment of the office and ways in which it can be improved through smart design choices.
Provide Ample Parking
Starting an interaction with a patient on the right foot is easier if they had an easy time finding a parking space on arriving at the office. It also helps to keep appointments running on time if patients aren't circling the lot struggling to find a spot to park when they should be entering the office. For physicians or practice managers considering opening a new location, ensure that there is ample space available for patient parking. For existing practices, explore ways in which patient parking can be more clearly identified and if possible, reserved for the use of your patients only.
Deploy Clear Signage
Keep things simple for patients by installing clear wayfinding signage from the parking areas into the building and reception area. Within the practice, continue to use signage to help ensure that patients know where they will be heading next in their visit. For larger practices, consider creating a map of the facility and having the receptionist walk patients through the path of their scheduled visit at check-in.
Separate Check-In and Check-Out Areas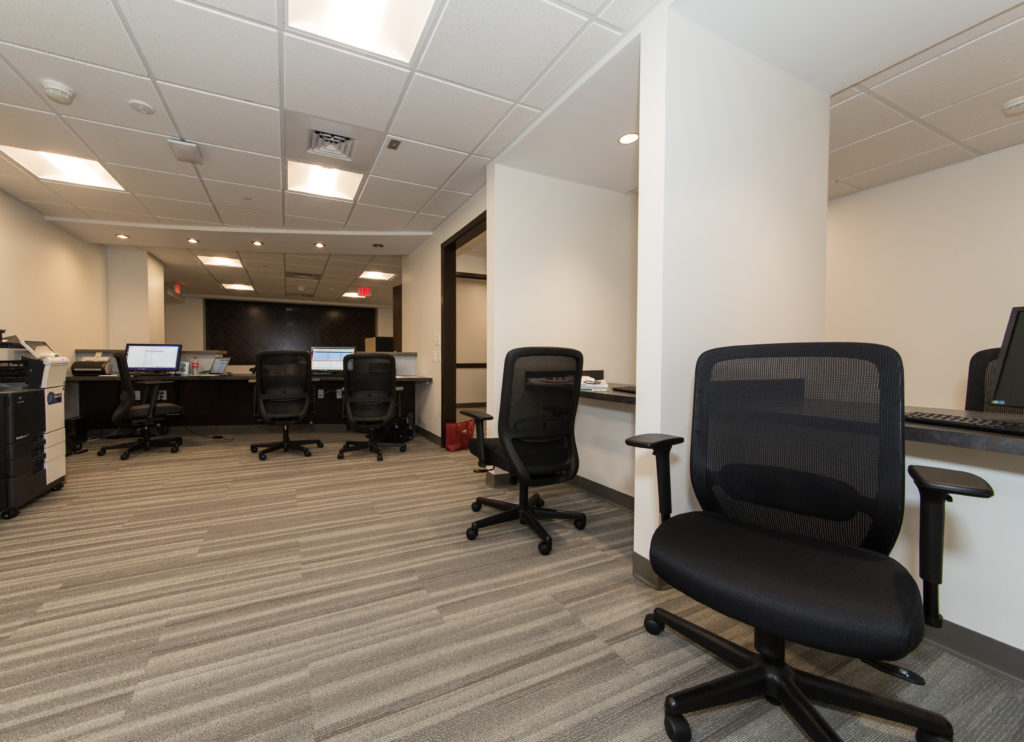 Separating the check-in and check-out areas gives the patient a clear and direct indication of where they are supposed to be and when. It can prevent the delay of quick check-ins based on things like difficulty with scheduling follow-up appointments at check-out, helping to keep appointments on schedule. Separate areas allow you to have more focused signage and support documentation within each area. And, by having designated zones for check-in and check-out activities, you can keep staff focused on the task at hand, with fewer unexpected demands being placed on them.
Still other practices are designing processes that allow for check-out of patients from within the exam rooms themselves. Using either wired in-room computers or specialized tablets, nursing or support staff can enter the exam room following the conclusion of the appointment with the doctor to schedule any follow-up appointments and issue closing paperwork.
Create "Swing Rooms"
Managing peak times of traffic without slowing down overall service can be a challenge. One approach to managing this is to have additional exam rooms that are used as "swing rooms" that can be staffed by a variety of doctors. This allows you to move patients from the waiting area into an exam room without having to wait for a current patient to leave an exam room which then needs to be cleaned prior to being ready for the next patient. Because doctors effectively share a space, it also limits the overall amount of space required for your practice while still allowing for fluctuations in patient volume.
Similarly, having flexibility in room usage can allow for the use of an office by a variety of staff members that is separate from the standard check-out or reception area for the discussion of financial issues. This provides privacy for reviewing payment options and terms, increasing the comfort level of patients and staff alike.
Evaluate your Supply Management Approach
If you or another member of your staff frequently needs to leave an exam room in search of supplies, it is time to re-evaluate your approach. Some offices are able to reconfigure space to allow for a centralized supply area from which all exam rooms are easily maintained. But for some spaces this approach can't be accommodated, and instead master supply carts are created which can be moved from location to location. While interruptions to care to retrieve missing items may seem small, for patients waiting in the exam room, small delays can add up to a generalized dissatisfaction, resulting in lower evaluation scores for the practice.
Establish Communication Zones and Common Areas
One of the best ways to ensure ongoing patient movement and workflow improvements is to improve internal communication. Designating a communication hub and encouraging its use as a space to share ideas for continuous improvement of processes and procedures is a great technique to continue to drive improvements in patient satisfaction.
These six ideas can get you started on design options to help improve patient movement and workflow. Undoubtedly, more options exist for your practice. The first step to identifying what they could be is to place yourself in your patient's shoes and systematically walk through a typical visit. Once you've outlined the steps, begin plotting them on a schematic of your office layout and make note of areas where you experience bottlenecks or backlogs. Be sure to involve your team in this process to make sure that multiple perspectives are accounted for. And then contact Real Services to have them help you identify ways in which your existing practice can be improved or to help plan out your new practice.