A Timeless but Modern Dental Practice: Reinecker Dental Group [Case Study]
Posted in Case Study.
The best dental office design combines patient comfort, timeless style, and efficient floorplans. We worked with Reinecker Dental Group to create a space that met these high standards through a timeless but modern design. Get the project details, challenges, main design features, and most importantly – the results! Read the case study now.
Project Background – Reinecker Dental Group – Reading, PA
Type: Dental Practice
Location: Reading, PA
Square Footage: 4,300
Project Timeline: 11 weeks construction 
Office Opened: September 2017
Website: http://www.reineckerdentalgroup.com/
Main Build-out Challenges
Dr. Christian Reinecker tackled not only a renovation, but also merging two dental practices at the same time after buying out a separate practice. He needed to keep costs low and run on a tight timeline. If the project dragged weeks beyond the estimated completion time, it would greatly affect his bottom line.
Key Project Design Elements
Dr. Reinecker's practice was built to maximize efficiency and improve patient comfort. The practice was designed as a clean, modern space that wouldn't go out of style. Instead of incorporating trendy design elements, we combined a neutral color palette with wood accents to make the space less sterile than your typical medical office.
Patient flow was one of Dr. Reinecker's main design concerns. The floorplan includes a central sterilization and lab area with all hallways funneled towards the treatment coordinator. The floorplan allows patients to move throughout their appointment with minimal crossover with other patients. This helps reinforce privacy and comfort.
See the timeless but modern design executed throughout the Reinecker Dental Group project.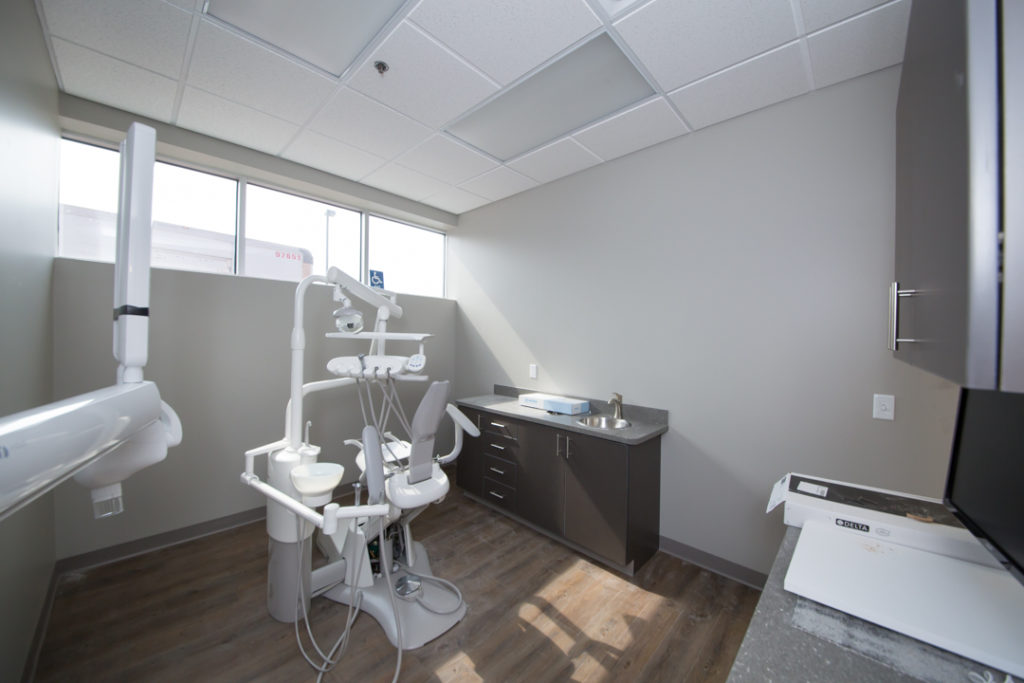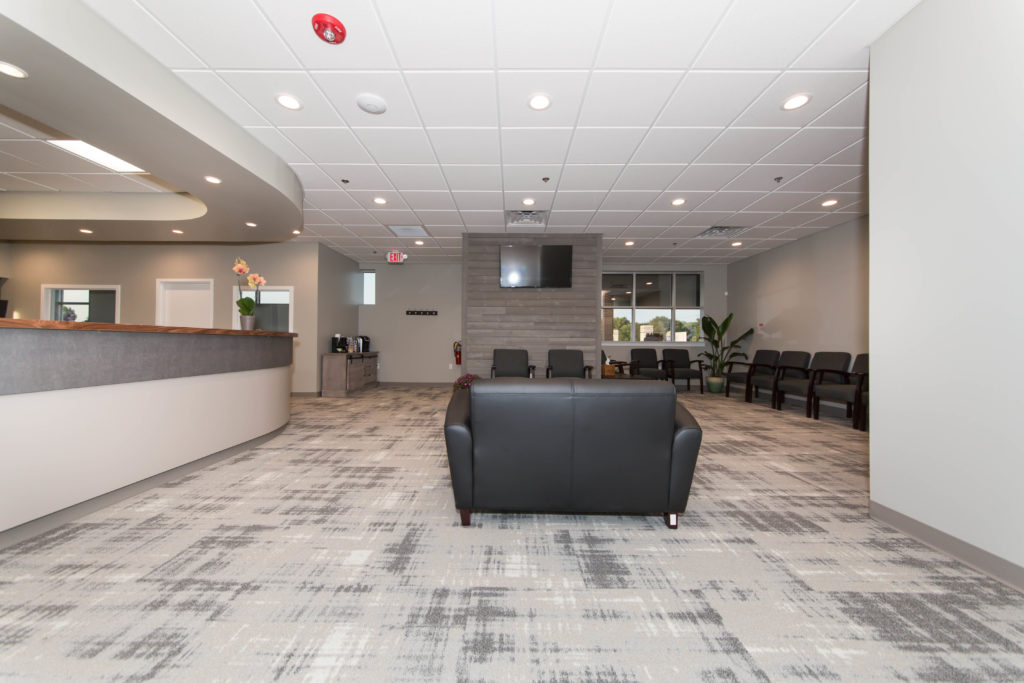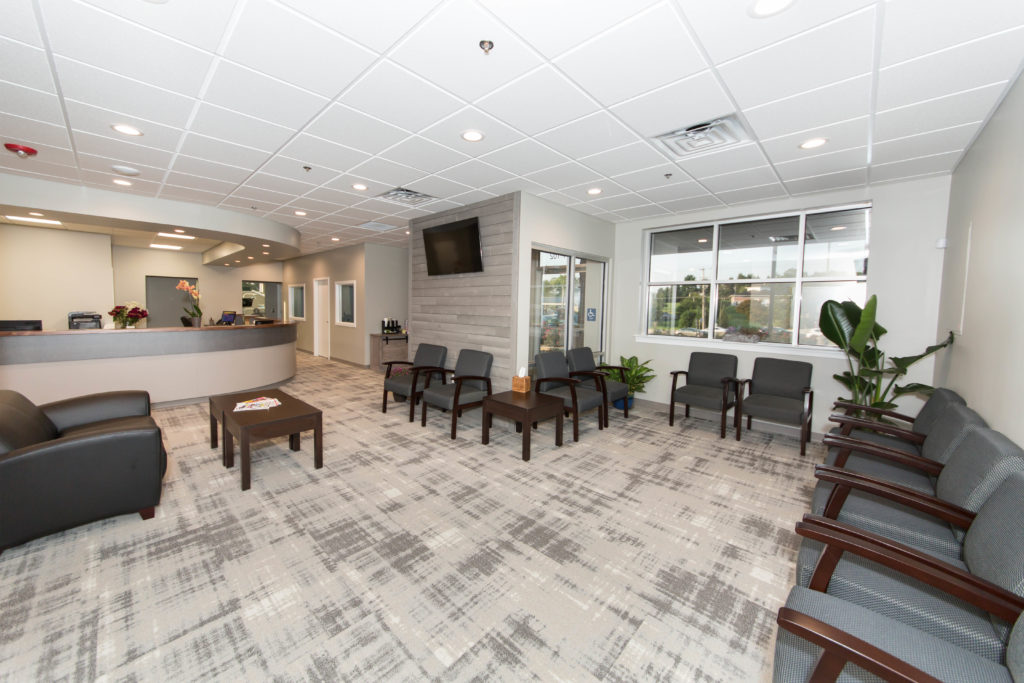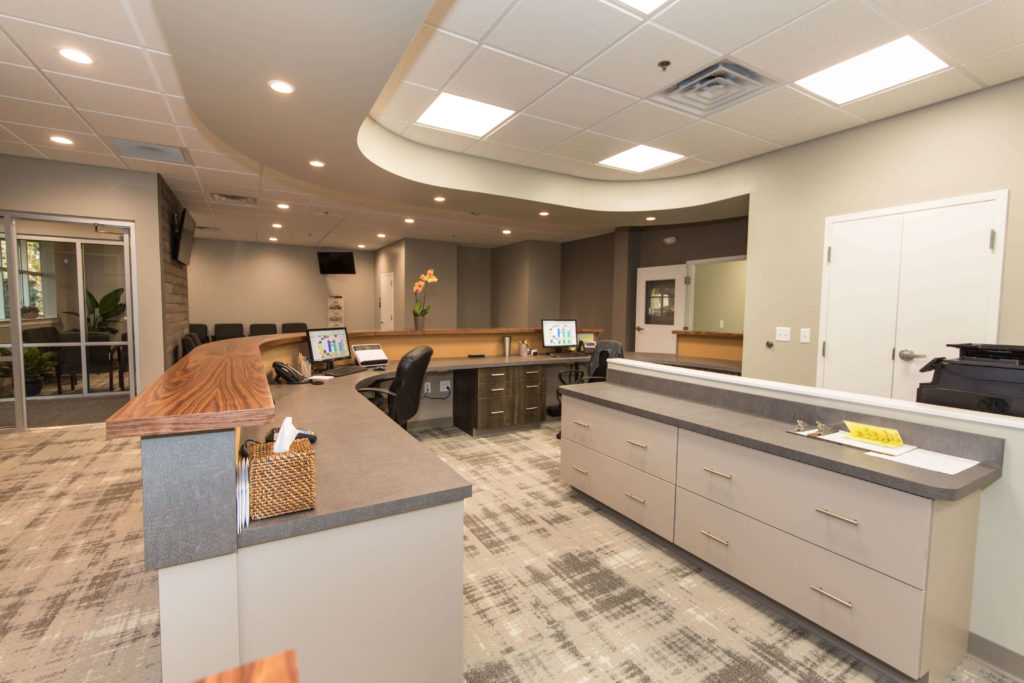 "Hire Real Services and be done with it. They are very professional and thorough. Don't let yourself get super stressed throughout the process and trust that Real Services knows what they are doing. To this day, if I call with an issue they call back immediately to get the problem solved – and it's 8 months post completion!"
-Dr. Christian Reinecker, Reinecker Dental Group
Results
Beyond the existing patient numbers doubling as a result of the merger, Reinecker Dental Group has greatly increased production numbers in both their original and purchased practices by approximately 12%. Their new patient numbers increased 50% at the newly renovated office thanks to a combination of location and design. They continue to record steady growth.
By working closely with Real Services, Dr. Reinecker was able to focus on the business merger while Real Services focused on delivering a beautiful, quality space within the estimated timeline!
Do You Know the 5 Main Steps in a Dental Build-Out?
Find out in our new eBook, "The 5 Basic Steps Behind Every Dental Practice Build-Out." Read the eBook for free so you know what to expect before taking on a dental practice renovation and can create your best dental office design.